HOW DO YOU FIND WORK AS A FREELANCER?
The biggest challenge for freelancers is finding new clients and consistent work.
The time, effort, and (sometimes) tears of trying to sell your services is exhausting. Almost every freelancer would rather be working instead of trying to sell their work.
Whether you're a first-time freelancer or a veteran of the feast-or-famine freelance cycle, you have faced this frustration. The challenge of finding new clients and consistent work makes sense. After all, most freelancers are interested in their craft or field, not in marketing themselves.
But it doesn't have to be this way. In fact, finding new clients and consistent work doesn't even have to be difficult.
Here's how you find freelance clients...
Anyone can use this system to find freelance clients, provided they're willing to put in the time and effort.
It starts with a simple three-step system.
We start by outlining and explaining the system.
Then we show you how to implement it into your work routine within a week, effectively kickstarting your personal marketing department.
After that, we'll talk about how to customize it so you can establish a niche, chase your dream clients, find work with existing clients, and make more money.
By using this system, you can:

Find dozens of potential client leads each week
Research and understand those leads and their problems so you can seperate yourself from the pack
Successfully pitch those leads by offering a solution
Qualify those leads to ensure you get paid
Use this system again and again
We cover additional ways beyond this system to find new clients too!
...and here's how you find consistent freelance work
From your existing clients to prospective leads, there are dozens of ways to find new work.
Using the free template we include with this course, you track all your existing and past clients, as well as prospects you want to work with.
Dozens of ideas for how to engage this client and create profitable work are outlined and explained.
These ideas are accompanied by outreach scripts you can use to lock down profitable projects.
We cover it all
In addition to the strategies for finding new clients and work, this course addresses every potential issue that may be holding you back.
This course tells you:
How to focus on a service offering that people with actually pay for
How to find, understand, and effectively engage the right kind of client
What clients care about
How to craft emails that prospects will actually respond to
The questions you need to ask a client
What makes a "good" client
How to qualify your clients
How to network
How to find new clients, with five separate client-finding strategies
How to find new work, with several dozen ideas for engaging past, current, and prospective clients
How to raise your visibility and authority
What's included
These client-and-work-finding strategies are offered in seven modules.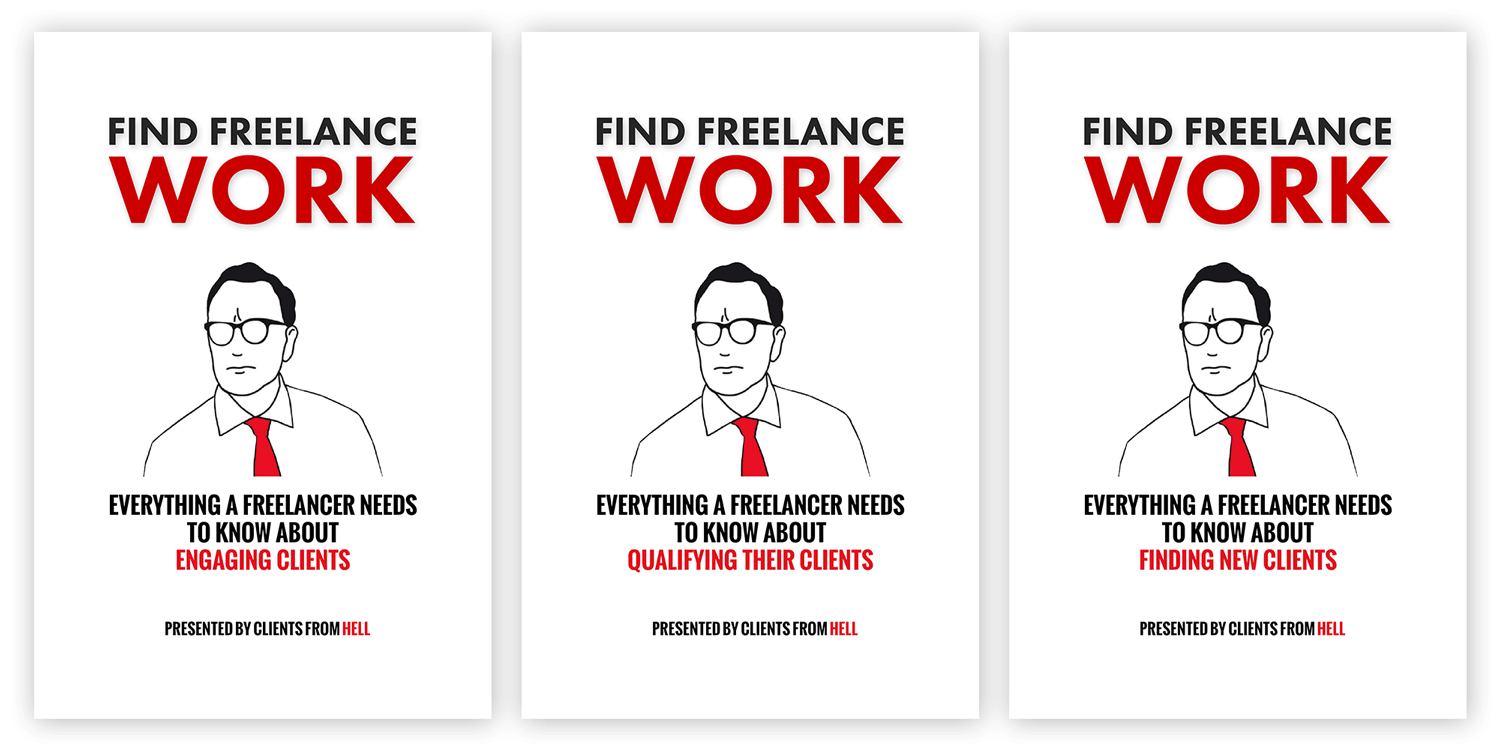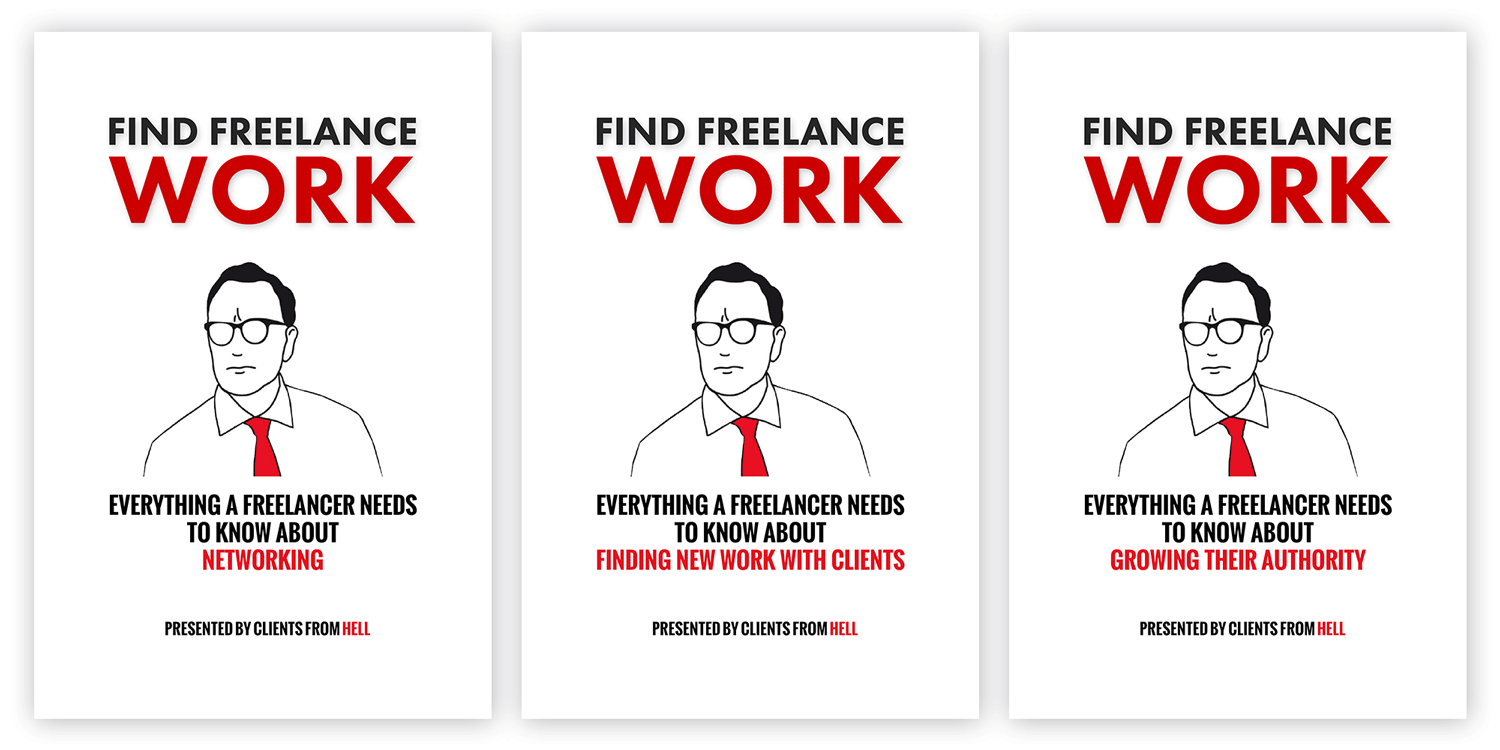 These modules consist of:
Over 200 minutes of presentations
20,000+ words of lecture notes (with 6 ebooks that distill these lessons -- a $200+ value)
Dozens of client-and-work finding scripts
A client-tracking system
BONUS: A 60-minute webinar on finding clients using job boards ($19 value)
BONUS: A 90-minute webinar on effective client outreach ($29 value)
All of this culminates in a comprehensive system you can use to find new clients and work at each stage of your freelancing career.
WHAT STUDENTS ARE SAYING
The hardest part about freelancing is knowing how to find work that actually pays with clients who don't suck. This course gives you all the tools you need to figure it all out. The ebook on qualifying clients as well the unit on building your freelance network changed the game for me.
If you're freelancing on the side or you're not sure how to grow your freelance business, don't hesitate to sign up for this course with Bryce!

- Latasha Doyle, Freelance Writer
What are you waiting for?
Save 50% if you register this month!
COUPON CODE: HALF OFF